Screenshots and Details
Circulation and Distribution Suite
For a list of features, see our Circulation product brief page here. Otherwise, please continue reading for the screenshots & their explanations:
Manage Customers Easily
Find customers easily & rapidly with just one detail: their name, phone number, address – or one of many other searchable fields. View details of their subscription(s) at a glance. When a customer requests a change which affects their billing such as cancelling a subscription, or requesting a temporary stop – these changes will automatically filter through to the accounting system so the customer is charged appropriately.
Manage the detail of each subscriber's subscription(s) easily. One customer may have multiple subscriptions, and each subscription may have a custom distribution throughout the week.
Create logical bundle labels
Our system can output bundle labels in an order to suit your workflow. Easily bundle up your publication for distribution by using sensible bundle labels organised for your business – such as per van, per street, or per paperboy.
Manage Multiple Publications
Manage as many publications as you need to. Each publication can have a custom set of publication days.
Street Index Maintenance
Manage streets and address numbers to Bundle Labels. Assign a logical number to a street, or subset of addresses on a street, and use this number when outputting bundle labels. Useful for very long streets which have multiple runners.
The system is designed so bundle labels come out in an order convenient for you, such as 'within vans'. You can easily manage the "runners" – publication delivery staff, and you can conveniently create run lists for your runners.
Management of Retail Customers
Retail customers have a different relationship to subscribers, as they may return many papers – or request several extras. To keep billing simple, the system manages all returns/extras automatically to ensure distribution and billing are aligned.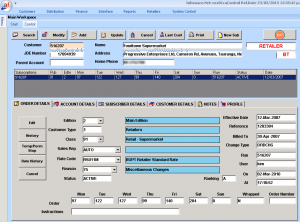 Generate Transactions Easily
Generating a list of transactions is simple for retail customers, and subscribers. Simply choose a date range and click a single button:
Reporting
Generate all the reports you need through our simple, intuitive interface.
Examples of reporting within the software:
Admin Reports
Bundle Label Extract
Circulation Analysis
Circulation Sales Extract
Delivery Complaints Report
Delivery Complaints Summary Report
Distribution Incident Extraction
Mini Subscriber Extract
New Subscription Starts Report
New Subscriptions Report
Newspaper By Advertising Area
No Returns/Sellouts Report
Order Charges Report
Retail Merchandising report
Retail Sales Report
Start Subscription Summary Report
Stop Subscription Summary Report
Sub Subscriptions Report
Street Index List
Subscriber Extraction by Rate End Date
Subscriber Listing
Subscriber Listing by Rate End Date
Subscriber Retention Report by Rate
Subscription Movements Report
Subscriptions Sales Report
Transaction Report
Web Returns Not Submitted Report
Direct Debit and Auto Credit Card Extract
Management Reports
ABC NS Summary
Area Nett Paid Sales by Day
Area Nett Paid Total Sales by Day
Customer History Extraction to Excel
Customer List Extraction to Excel
Newspaper Rate Extraction
Retail Sales Extract
Retailer Billing Transaction Reprint
Retailer List Extraction to Excel
Revenue in Advance Report
Subscriber Billing Transaction Reprint
Subscriber List > 2 yrs; < 2 yrs
Subscriber List Extraction to Excel
Volume and Financial Extract to Excel
Weekly Management Reports
 Functionality and Scope
Our Circulation and Distribution Suite is feature rich, there's a lot more to it than we are able to show here. For more information or a free personal demonstration – please email Steve, or contact us.
Infomace's Circulation and Distribution Suite  is well established with Beacon Media Group, Ashburton Guardian, The Gisborne Herald – and many others. If you'd like to request a demonstration, or simply learn more about our Circulation Suite – please, contact us.